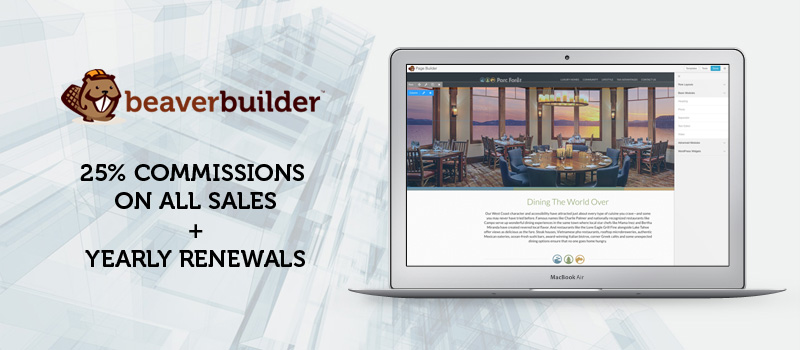 We're super excited about the release of our new Beaver Builder theme and Page Builder plugin and hope you are as well! We feel they are going to be epic resources for you and us for years to come.
If you are an online blogger, web designer/developer or possibly just a website owner looking to generate more income, our affiliate program is here to help you succeed with one goal in mind – make you money.
We offer a 25% commission on any product membership sold via referral link. Did we mention we also offer a lifetime commission on yearly membership renewals? Yep, that is correct! Here's a breakdown of what we offer to our affiliates:
25% commission on any membership
25% commission on any renewing membership
60 day cookie lifetime
Plenty of eye-catching banners
Monthly commission payouts, no minimum
Payments made via PayPal
Solid support and knowledge base
Dashboard to track a variety of metrics and access banners/affiliate links
So, How Do I Become an Affiliate?
We're glad you asked! Before applying for our affiliate program, we recommend you review our Affiliate Program Terms and Conditions.
Becoming an affiliate of Beaver Builder is actually a pretty painless process, here is how:
Complete and submit the affiliate application. There will be short review period to ensure all information has been received.
We'll email you to let you know you're approved with access to your new affiliate dashboard to where you can access metrics, your referral link and banners if needed.
How Do I Promote Your Products?
Another fantastic question! Promoting our products could mean a variety of things to you. It could be as simple as sending a link to anyone you think might be interested. To assist, we've compiled a list of ideas on how you might be able to promote our products, but these are just the tip of the iceberg:
Send an email with referral link to your readers, clients, or followers on a social network
Signature lines in your emails, blog posts or forum posts
The referral link or one of our banners in your blog or website
If you have a blog, post an article about or reviewing the products
Social networking, i.e. Twitter, Facebook, LinkedIn, etc.
Thanks for your interest in supporting Beaver Builder! We're here to help you succeed, so feel free to contact us if you have any questions. Best of luck!